Nine COA students will take part in the 5th Annual Civil Society Forum of the International Civil Society Mechanism for Food Security and Nutrition (CSM) and the 41st Session of the Committee on World Food Security (CFS) in Rome, Italy.
This year, the CSM will be conducting an internal assessment, in its 5th year after the reformed CFS, and there will be a range of things discussed at both fora, chief among them the guidelines on responsible agricultural investment, and the 10-year anniversary of the Right to Food Guidelines.
Meet our delegation!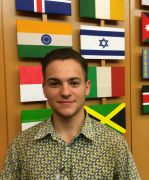 Eric Accard
i is from New York, NY, Eric is attending his second year at College of the Atlantic. He has been interested in food systems, especially those pertaining to the slow food movement. His affinity for food comes from his upbringing in the restaurant industry which has fueled his passion for slow food. His hope is to gain a keener understanding of global governance and how it is being administered presently. He looks forward to observing and learning about the complications and obstacles that lie in the way of food sovereignty and nutrition. He hopes to gain from what he learns at the CFS to enrich his passion for food advocacy, and provide a base for him to work with organizations in this field. Focusing on Fisheries and Aquaculture, Eric hopes to positively contribute to making these things sustainable with regards to equality and human rights.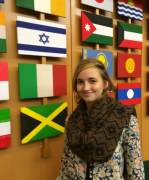 Nina Barbetti was born in Dallas, Texas and raised in Pittsburgh, Pennsylvania. She attended public high school and participated in conservation projects for the Student Conservation Association as well as developed funding guidelines and solicited proposals for non profit organizations as an intern for the Heinz Endowments Youth Philanthropy Internship. As a second year at College of the Atlantic, she has been interested and involved with food systems, food advocacy, and now advanced food policy. Going into the CFS conference in Rome, Italy, she hopes to grasp the structure and function of policy convergence and the overall dimensions of the conference She hopes to work with CSOs in Mexico on farmers' rights during the Winter 15' Yucatan Program.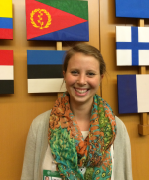 Kristen Dunphey from Abington, PA, is a second-year Master's student at College of the Atlantic, studying local urban food production, distribution, and consumption in the context of food security and nutrition for low-income urban communities. As this is her first time attending a UN meeting, she's interested in grasping a better understanding for the process of global governance. She's also interested in considering ways in which she might position myself both professionally and academically in order to make the most effective and positive impact on the food system at various levels.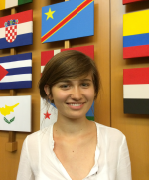 Clara Mareschal was Born and raised in Belgium, Clara is a Davis Scholar and a sophomore at College of the Atlantic. She started her curriculum with great interests in questions of historical memory and human rights and has extended those to international politics and social and development theory. Clara will attend the CFS for the first time and is eager to critically observe how the multistakeholder approach that is unique to this UN body operates. She will be following the negotiations on responsible agricultural investment (rai) and fisheries and aquaculture.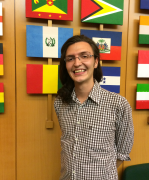 Khristian Méndez is a Davis and Drier senior scholar at College of the Atlantic. His human ecology degree has combined international environmental politics with visual communication and performing arts. He has a keen interest in bringing creativity into the UN spaces, and bridging the happenings inside the room with the people they impact outside of the room. At the time of the CFS, Khristian is working on his senior project, a piece of dramatic literature inspired and informed by his time at the UN.
At the CFS, Khristian will be following Food Loss and Waste, and the 10-year Review of the Right to Food.
He's been involved with the CFS since his second year, and with the Sustainable Development platform since his first year, making this his 4th intergovernmental meeting.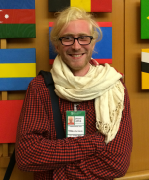 Victor Mongay Velez from Barcelona, [Spain], is in his second year at College of the Atlantic. There he has found the perfect space to explore a wide range of interests including politics, peace studies, (art) anthropology, human rights, and music among other things. In this year's CFS, he is focusing on the Food Losses and Waste (FLW) negotiations, as well as the linkages with other international processes such as the 2015+ Agenda, and the 2nd International Conference on Nutrition (ICN2). He's hoping to deepen his understanding of food systems, global politics, and power dynamics, and when possible, supporting the Civil Society Mechanism in achieving its goals.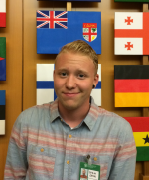 Jace Viner from Middletown, Delaware, and transferred to the College of the Atlantic after attending the University of Delaware for a year, where he double majored in Psychology and Women's Studies, with a minor in Sexuality and Gender Studies. Coming to COA as something in between a 2nd and 3rd year, he is now able to truly discover his passions and possibilities that were completely unimaginable before. He is following the right to food and its linkages with nutrition, specifically the ICN2, at the committee on world food security, while also anticipating how the FAO will handle issues with food sovereignty, agro-ecology and seeds in the future.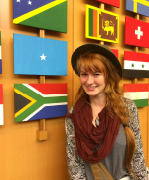 Rachel Wells begins her final year at COA with a continued focus on local and international conversations surrounding food sovereignty, security and justice. At the CFS, she intends to focus on Fisheries & Aquaculture, Responsible Agricultural Investment, Right to Food, while paying attention to the notion of Climate Smart Agriculture. Rachel sees the importance of translating the actions, discussion and activities within the CFS space to other stakeholders, particularly the community around her farm in southern Virginia.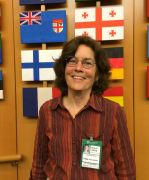 Molly Anderson holds the Partridge Chair in Food & Sustainable Agriculture Systems at College of the Atlantic in Bar Harbor, Maine, where she teaches on hunger and food security, fixing food systems, sustainability and system dynamics.  She is especially interested in multi-actor collaborations for sustainability, sustainability metrics and assessment, food system resilience, human rights in the food system, food security and the right to food in the US and other industrialized countries, and the transition to a post-petroleum food economy.  She is also interested in bridging the interests and concerns of academicians and community-based activists.  She is involved in food system planning at the state and regional scales, and participates in the national Inter-Institutional Network for Food, Agriculture & Sustainability and the regional Food Solutions New England network. She is a member of IPES-Food and was a Coordinating Lead Author on the International Assessment of Agricultural Knowledge, Science & Technology for Development.  She has worked as a private consultant for domestic and international organizations, with Oxfam America, and at Tufts University, where she was the founding Director of the Agriculture, Food and Environment Graduate Program in the School of Nutrition Science & Policy and directed Tufts Institute of the Environment for 2 years.  Molly earned an interdisciplinary Ph.D. in Systems Ecology from University of North Carolina at Chapel Hill and a B.S. and M.S. in natural resource management and a certificate in Latin American Studies from Colorado State University.