A group of 13 students will be in Lima, Peru participating in the UNFCCC COP20, Conference of the Youth, Cumbre de los Pueblos, Global Landscape Forum as well as many other events, gatherings and conversations surrounding climate change. They will continue to approach this space from the equity & justice, agriculture & forests as well as markets & finance perspective. Learn more about us :
Augustin Martz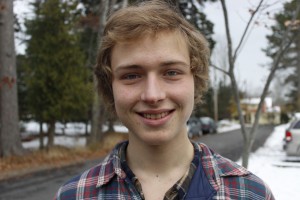 from Winterthur, Switzerland, graduated in 2012 from UWC of the Adriatic in Italy and is now a second year at COA. He has focused his studies on History, Theater, Languages, Music, and Politics. It is his sincere hope that at COP20 in Lima, the parties will manage to find a fair way of reducing emissions. The so-far very ineffective Carbon Markets are being proposed within the new agreement and it is important that other, historically more effective methods such as binding commitments, leading to a pathway below 2°C, are also proposed. With a comprehensive nudge from a coherent Civil Society, this should not be hard for delegates to agree upon. The lives and cultures of millions are at stake. For Augustin, COP20 is a space for connecting with other groups to become a stronger voice leading up to Paris. He hopes to contribute to this by decoding the UN language into forms of media that are easier for everybody to understand. He will be focusing on Finance and Loss and Damage.
Maria Alejandra Escalante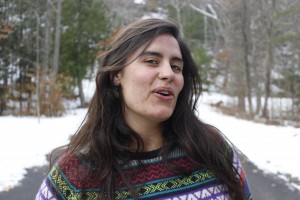 was born and raised in Colombia, studied at UWC Costa Rica and is now a senior at College of the Atlantic. As a member of Earth in Brackets she has attended the Rio+20 Conference on Sustainable Development, UNFCCC COP19 at Warsaw, and the social preCOP organized by the Venezuelan government. Maria is coming to Lima COP20 eager to see how the process of the 2015 new climate agreement unfolds under an ever pressing climate crisis. She will be following issues regarding plans and programs for climate adaptation under the ADP, particularly in terms of agricultural adaptation, and will pay a close look at the progress under the Loss & Damage Mechanism. Maria is also interested in strengthening the global youth climate justice alliance.
Michelle Pazmino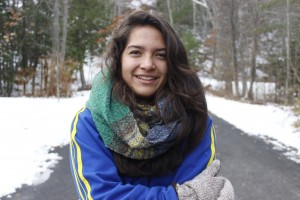 was born and grew up in the capital of Ecuador, Quito. She is currently a second year at College of the Atlantic. Michelle is interested in environmental sciences and climate change as much as she is in visual arts. When joining Earth in Brackets in the Fall of 2013, she was introduced to a new approach of solving climate change issues around the world and since then she has been getting involved in such processes. Besides environmental activism, the conservation of biological diversity has been one of her passions and she got to attend the 12th COP on the Conference on Biological Diversity in Pyeongchang-South Korea. At the COP20 of the UNFCCC Michelle will be following issues regarding land-use, agriculture and forests, specifically green economy mechanisms such as REDD and the CDM.
Sergio Cahueque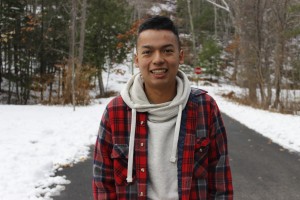 was born and raised in Guatemala. He attended the United World College in British Columbia, Canada, and is now in his second year at COA. He has been a part of Earth in Brackets since his first year and this is his first time attending a COP. He has prepared to follow issues related to Agriculture and Forests, more specifically LULUCF, and the unfolding process of such issues under the ADP. He believes that a Climate Justice approach in the negotiations is necessary in order to solve the climate crisis in an equitable and fair manner for all.
Aneesa Khan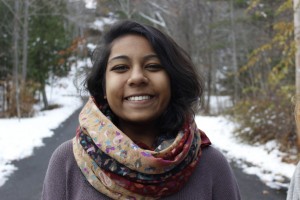 was born in India and raised in Muscat, Oman. She graduated from the Mahindra United World College of India in 2013 and is currently a second year Davis Scholar at College of the Atlantic. At COA, Aneesa has focused her studies on a range of interests from global environmental politics to sustainable energy and food systems. She has been an active member of Earth in Brackets for a year and a half and this is her first UNFCCC COP. In Lima, Aneesa will be tracking negotiations related to climate finance and carbon market mechanisms under the Ad Hoc Working Group on the Durban Platform for Enhanced Action (ADP) through the lens of equity and climate justice. She hopes to get involved with grassroots organizations at spaces like the Cumbre de los Pueblos to be a part of the connection between local and global climate activism. She is also interested understanding the political landscape of YOUNGO, the youth constituency, at the COP.
Klever Descarpontriez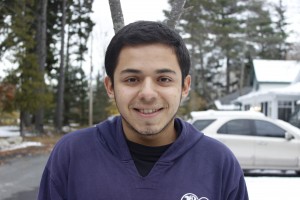 was born in Santa Cruz, Bolivia. Klever is a Davis scholar going into his third year at College of the Atlantic. He graduated from the United World College Costa Rica in 2012 where he discovered many of his passions. In the last 3 years he has been learning about environmental and social studies with a focus on climate politics and the climate regime. He is really interested to see how the new 2015 agreement will look through the lenses of equity, ambition and justice. He is going to be following topics relating to gender and climate in addition to the ADP workstream 1 agenda. As an active member of Earth in Brackets he has attended UNFCCC COP19 in Warsaw last year and the social preCOP in Venezuela last month and the 53rd session of the Commission on Sustainable Development in the UN headquarters in New York.
Sara Velander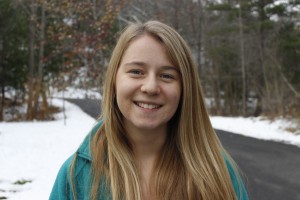 was born and raised in Stockholm, Sweden before living in Malta and the U.S. during her teenage years. She is now a second-year student at College of the Atlantic studying a variety of topics ranging from ecology to anthropology. Since her first term at College of the Atlantic, Sara has been an active member of Earth in Brackets attending various climate justice events like Powershift (2013) and the People's Climate March. She has recently fostered an interest in waste management and its role in climate change after attending the Zero Waste Conference in Durham, New Hampshire. Lima will be Sara's first COP and she will be following negotiations on Agriculture, Forestry, and Other Land Uses (AFOLU) as well as non-market mechanisms under the Subsidiary Body for Scientific and Technological Advice. She also hopes to build connections between other youth movements around the world by attending the Conference of the Youth and the Cumbre de Los Pueblos.
Adrian Fernandez Jauregui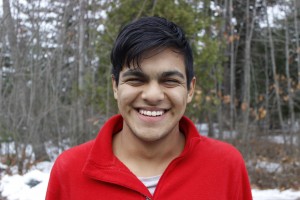 is a Davis scholar at College of the Atlantic, and he is in his senior year. Before attending COA, he studied for two years at the United World College in British Columbia, Canada. His academic trajectory has been shaped by his interest in international development and water issues related to climate change. He has been an active member of Earth in Brackets since 2012, and has been a part of multiple EIB delegations to UN sponsored events, such as the meetings under the Commission on Sustainable Development in New York and the Rio+20 Earth Summit, as well as to the United Nations Framework Convention on Climate Change (UNFCCC) 19th Conference of the Parties (COP19). This year, Adrian will be part of the EIB delegation going to the COP20, in Lima, Peru. He will be engaging and working with other youth, specially with those from Latin America, and he will be tracking the negotiations related to carbon markets and climate finance.
Rachel Wells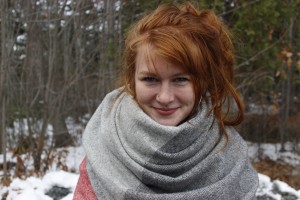 is completing her final year at College of the Atlantic. In the past year she has participated in the COP19, Camden Conference:Global Politics of Food as well as the FAO 41st Session of the Committee on World Food Security. Rachel heads to Lima with the perspective that demands an equitable base specifically in areas concerning land, water and resource use within the climate change mitigation as well as adaptation market, plans and approaches. The opportunity to be in this greater space with other youth and civil society members comes with the ability of returning to local and regional,particularly farming communities in Virginia as well the U.S to translate knowledge in order to promote an equitable, cross cutting global perspective in areas of food sovereignty to climate justice. Rachel will also be continuing an ongoing documentary photography project surrounding this experience and environment.
Julian Velez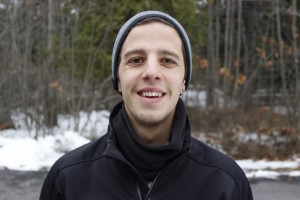 is a Mexican-Colombian, senior member of Earth in Brackets. He was a member of the delegations to COP17, the preparatory meetings for Rio+20, as well as the Rio+20 Conference on Sustainable Development, COP18 Doha, COP19 Warsaw and the Social Pre-COP in Venezuela. He sees that the youth's critical and political engagement in the process is a fundamental piece to strengthen the voice of civil society in their effort to push for justice and ambition. He thinks that now more than ever civil society dissent needs to place real pressure and in their governments nationally and internationally. He believes that these moments need to be used to express the rightful indignation towards our irresponsible world leaders and the fossil fuel industry. He thinks we need to harness the energy of indignation and use it to fuel the Climate justice movement. He believes we need to magnify the political momentum of social movements and civil society in regards to Climate Change. He really wants to work with more youth, especially from the South. Julian will be following the ADP negotiations in both workstream one and two. Additionally, he is keen to connect the diplomatic climate circus with the struggles of social movements in the ground.
Angela Valenzuela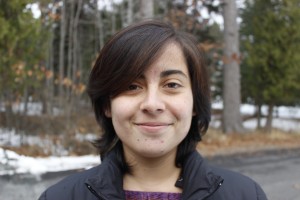 was born in Santiago, Chile. In 2013 she graduated from Pearson College, UWC of the Pacific in Canada. She is currently a second year student at College of the Atlantic. At COA she has focused her studies on Global Environmental Politics, Social Theory, and Music. The climate negotiations in Lima will be her first time tracking negotiations under the UNFCCC. Inside the COP she will focus on following Climate Finance and Adaptation. She is also interested in engaging in the "Cumbre de los Pueblos", a parallel summit that will gather civil society from all over the world to demand governments to take significant action to confront climate change. Angela will be also creating podcasts throughout the negotiations and the people's summit.
Maytik Avirama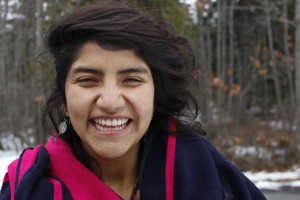 was born and raised in Colombia. She graduated from Li Po Chun UWC in 2011 and is currently a Senior student Davis Scholar at College of the Atlantic. While at CoA she has been taking classes on Ecology, Anthropology, Conservation Biology and Art. She is particularly interested in exploring indigenous struggles in relation to mining and in general trying to deepen her understanding of issues of conservation biology and alternatives to development. In Lima she is going to be following the ADP negotiations under an equity and justice perspective, particularly the work of the workstream two whose objective is to reduce the ambition gap of 2015-2020. She also wants to support the efforts of the climate justice movement and create a bridge of understanding and collaboration between La Cumbre de los Pueblos and the COP space.
Omer Shamir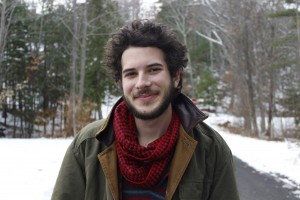 is a College of the Atlantic student from Tel-Aviv, Israel. In 2011 he graduated from Mahindra UWC and went back to Israel. Refusing to serve in the Israeli military, Omer began working for several NGO's including Hotline for Refugees and Migrants, The Social TV, and Keshev. He then traveled Latin America and began his studying in College of the Atlantic in the fall of 2012, where he is focusing on film studies and filmmaking. He is particularly interested in the ability of cinema to act as ethnographic tool to investigate social-cultural issues. He recently completed his first short film, shot in Mexico and narrates the story of midwifery in the lives of the Mayans of the Yucatan. This will be Omer's first experience in the UNFCCC, where he will be working on making a short film about climate change.