A group of 17 students will be in Paris, France participating in the UNFCCC COP21, Conference of the Youth, Global Landscape Forum as well as many other events, gatherings and conversations surrounding climate change. They will continue to approach this space in an equitable & just perspective. Learn more about us :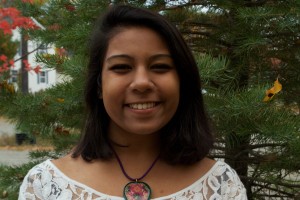 was born in Chennai, India and raised in Muscat, Oman. She graduated from the Mahindra United World College of India in 2013 and is currently a third-year Davis Scholar at College of the Atlantic. At COA, Aneesa has focused her studies on a wide range of subjects such as international environmental politics, law,  food and agricultural justice, and issues with trade. At the UNFCCC COP20 in Lima last year, Aneesa followed negotiations on climate finance, carbon markets, and the Ad Hoc Working Group on the Durban Platform. This year in Paris she looks to continue tracking policy on these issues while also engaging deeply with the large number of climate justice activists who will be working in alternative spaces and on the ground. Aneesa is extremely interested in building alliances and working in solidarity with other groups so as to support the narrative that for real change we need a strong and consolidated civil society movement that continues after Paris. Along with Earth in Brackets, Aneesa is eager to show governments and big industry that they will not deliver the real solutions, civil society will.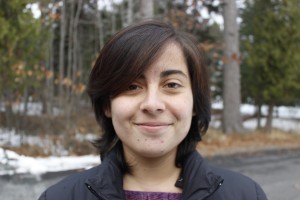 was born in Santiago, Chile. In 2013 she graduated from Pearson College, UWC of the Pacific in Canada. She is currently a third year student at College of the Atlantic. At COA she has focused her studies on Global Environmental Politics, Social Theory, and Music. Last year she attended  the climate negotiations in Lima and played the song "hombre de papel" inside and outside the conference. After that experience Angela along with Augustin Martz have decided to dedicate a whole academic term to the compositions of songs that can translate climate politics and justice into music. If you want to know more about their project, please visit: www.agualibre.net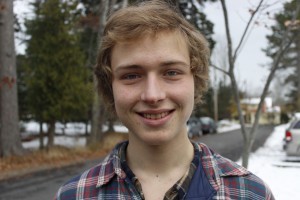 was born in Zurich, Switzerland. He graduated from UWC of the Adriatic in 2012. Now he is studying human ecology at College of the Atlantic, where he has focused on Climate Politics, Theater and Music. Last year he went to the COP20 in Lima together with Earth in Brackets and brought political music along together with Angela Valenzuela. This has developed into a project, for which the two musictivists spend fall and winter in Paris to compose songs for the conference. Augustin is eager to communicate the pain that we feel in the face of climate change and let it transform into the loving connection of a broad and deep movement for climate justice. You can learn more about the project here: agualibre.net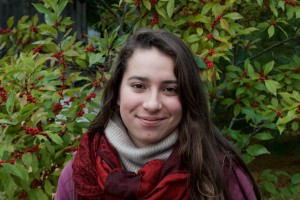 was born and raised in the heart of Mexico City. In 2014, she graduated from the United World College of the Pacific in Canada. After this she enrolled at College of the Atlantic in Maine (USA), where she is currently a second year. At COA, Aura has taken a focus on economic development, environmental sciences and climate politics. Last Spring, she attended the UN negotiations for the Post-2015 Development Agenda in New York, where she followed closely the discussion around the Sustainable Development Goals. In Paris, Aura expects to get a deeper understanding on climate negotiations and the surrounding environment. She plans to be highly involved both in the inside and the outside, working on following policy but also building strategy and movement with civil society. In terms of policy tracking, Aura's main interests are climate finance, as well as the development of the new agreement to be signed this December.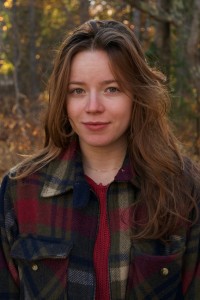 was born in North Stonington, Connecticut. She attended one of the only waldorf high schools in the Northeast, the High Mowing school in New Hampshire. She attended Emerson college in Boston for a year before transferring to COA where she is currently finishing her fourth year. At COA, she has focused on Environmental Law and Policy and land conservation, but she wants to learn more about how Environmental Policy functions internationally. This will be her first experience attending a COP and it will also her first involvement with the climate justice group [Earth]. She is particularly sceptical of carbon markets as a solution to climate change and will be following those discussions during COP21. She hopes to be an active participant in the international civil society movement forming around the negotiations.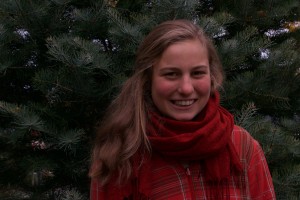 grew up on Tortola, a 13-mile long island in the British Virgin Islands. She was homeschooled for two years, attended UWC Atlantic College and took part in The DO School social entrepreneurship program. Hana loves anthropology, social theory, systems thinking, food justice and theatre. COP21 will be her first experience at international political climate negotiations. She is most interested in approaching the COP and the adjacent civil society events from an ethnographic perspective. Her main interest is focused in how youth at the COP understand climate justice and their own political power. She would like to carry out ethnographic research at civil society mobilisations and in youth spaces.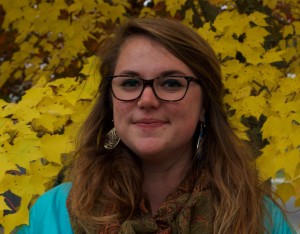 was born in Atlanta, Georgia and raised in Louisville, Kentucky….y'all. She is in her second year at College of the Atlantic studying food justice and policy, agriculture, and climate politics. Since her involvement with [Earth], she has been actively aware of global environmental issues and politics. This has led to her engagement in the UN Post-2015 Sustainable Development Negotiations this past March as well as the UN Sustainable Development Summit that adopted the new Sustainable Development Goals of 2030 this past September. COP21 will be the first climate centric conference she has attended within a UN space, and she is excited to follow negotiations regarding loss and damage, agriculture, and climate induced displacement and migration. She is also looking forward to meeting other members of civil society and youth to build stronger global connections and solidarity in this great fight for climate justice.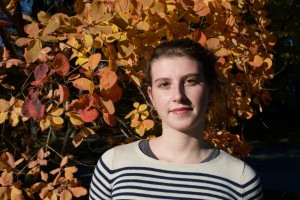 was born in San Francisco, California but grew up between milking goats on a small cooperative outside of Portland, Oregon, and herding desert cabras on the Sonora/Arizona border.  Here, she learned that despite their environmental differences, the ponderosa pines within Mt.Hood National Forest and the desert nopales of Nogales share a more significant commonality. That commonality being the degradation of common resources by corporate interests in obtaining capital. Not only did this ever present phenomena grant her the sense of responsibility over the protection of the earth, but it also gave way to her understanding of the nuances within different systems of power and the massive developmental inequalities between the two ecosystems, as products of the ever bleeding wounds of colonialism.  After coming face to face with the realities of climate injustice, she decided to attend COP21 in Paris as a third year COA student and member of [Earth] to engage in social movements within civil society and investigate power dynamics within the UNFCCC. She intends to help add to the much needed scrutiny of the institutional framework of international climate negocations.  As the imminent consequences of climate change are already on our doorstep, Kendall is an advocate for the legal establishment of the Loss and Damage mechanism within negotiating text, and for developed countries to provide the political space and resources going toward a just means of adaptation. Her other passions include Midwifery and Degrowth Economics, which she intends to foster by following Women and Gender and Market Mechanisms.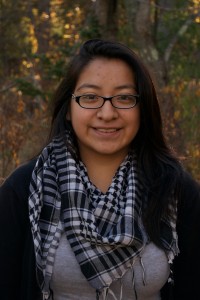 was born and raised in New York City. She is a current second year who has studied a range of topics including biology, philosophy, and climate politics. She joined [Earth] in her first year with a big interest in learning about political platforms that involve social and climate justice issues. Although she has attended the SDGs negotiations in March, this year will mark her first time attending a COP. From the outside space, her hope is to help make a bridge through various mediums of communications to make the process more accessible to those without accreditation and those who are unable to be in Paris. She also wishes to engage with civil society and other stakeholders in social justice movements to help build strong networks and alliances.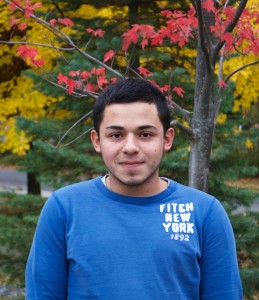 was born in Santa Cruz, Bolivia. Klever is a Davis Scholar finishing his fourth year at College of the Atlantic. He graduated from the United World College Costa Rica in 2012 where he became interested in climate change. In these last 4 years, he has been learning about environmental and social studies with a focus on climate politics and the climate regime. He is extremely interested to see how the new 2015 agreement will look through the lenses of equity, ambition and justice. He is going to be following topics related to gender and climate in addition to the prospects of the Paris Agreement and other decisions under the Ad-hoc Working Group on the Durban Platform for Enhanced Action. As an active member of Earth in Brackets, he has attended UNFCCC COP19 in Warsaw, Poland in 2013, the social preCOP in Venezuela in 2014 and COP20 in Lima, Peru last year.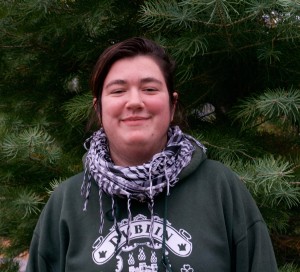 is from Trieste, Italy. She is currently a second-year at the College of the Atlantic, but before finding her way to Bar Harbor, Margherita attended the United World College in Mostar (Bosnia and Herzegovina). Her interests include sustainable economic development, renewable energy, and social justice (in particular issues of refugees migration, organized crime and corruption). While in Paris, Margherita intends to follow negotiations on climate finance and the discussions concerning renewable energy. Because COP21 will be her first international negotiations experience, she hopes to gain the most insight on international power dynamics and the roles of civil society and social movements.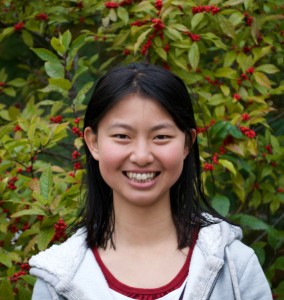 grew up in suburb of Kyoto Japan. She is a second-year student at College of the Atlantic focusing her study on education along with exploring her interest in international politics and anthropology. Before coming to COA Makiko studied at United World College in Wales, UK for two years with students from over ninety countries. The experience of living with people from different cultural and socio-economic background furthered her interest in working to create a more just world. Her experience in the UN Post-2015 Sustainable Development Negotiations this past March, has made her realize the responsibilities and roles developed countries have in creating a sustainable future. That experience has fostered her interest in getting involved with COP21. At COP21, which will be her first COP negotiation, she is interested in following technology transfer and capacity building. She is also very interested in getting involved with civil society, including Japan.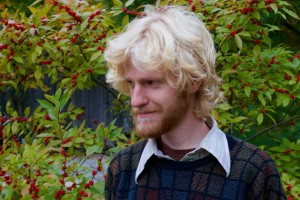 was birthed into Tulsa, Oklahoma (once the 'Oil Capital of America!') but grew taller within the suburbs of Atlanta, Georgia, of the southern United States. As a second-year student at College of the Atlantic, he has collected crumbs of literature & language, environmental politics, food justice, and alternative economics. While in Paris, Matthew will seek to study international power dynamics, climate ideologies, the linguistics of UN negotiations, and the role of social movement and civil society. As an [Earth] member and an idealist, he hopes that COP21 will be a moment in which the voices of the oppressed, the vulnerable, the poor, the voices for justice and equity, may become louder and stronger than those of the corporate world, the fossil fuel industry, and the wealthy and the powerful. He trusts that whatever happens, the people will endure.
Morgan Heckerd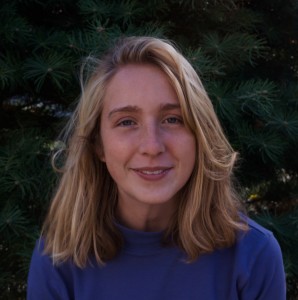 grew up on the coast of Maine learning to sail, hike, and grow vegetables. From this, her devotion to the earth manifested quickly. Her studies at the College of the Atlantic have only strengthened her commitment to the pursuit of a more sustainable world. She joined [earth] in her first term and was introduced to the idea of climate justice. She has focused her academic studies in agriculture, renewable energy, and education. This will be Morgan's first COP, and she will track land use, agriculture, and energy transformation– particularly within the parameters of the Paris Agreement. She is critical of false solutions and will be tracking negotiations through a scope of equity and justice.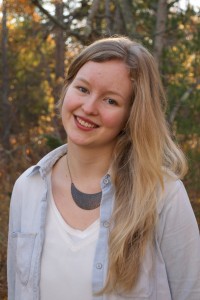 was born and raised on the coast of Maine. There, she spent many hours a day exploring the outdoors. Paige is in her third year at COA focusing on renewable energy, sustainable business and investment, and international climate politics. Paige was self-taught through high school. During this time she lived in Chicago, studied at an art school there, Marwen, and attended Conserve School, an environmental semester school in northern Wisconsin. At an early age she became involved in fighting for social justice and environmental conservation. Later, she realized the inseparable nature of these two issues and how important it was to fight for them together. Paige wants to learn how she can best fight for climate justice locally and internationally, realizing it will take efforts from many different levels to solve complex problems. She was introduced to the UNFCCC during the SB42 session in Bonn this June. During these two weeks she quickly fell in love with fighting for climate justice in this space. She recently attended the ADP session this October in Bonn. She hopes to focus on Workstream Two and renewable energy during COP21.
Sara Velander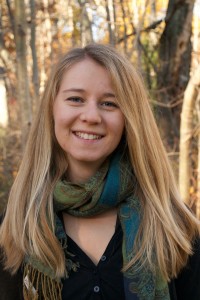 was born and raised in Stockholm, Sweden before living in Malta and the U.S. during her teenage years. She is now a third-year student at College of the Atlantic studying a range of topics including ecology, earth sciences, anthropology, and environmental policy. Since her first term at College of the Atlantic, Sara has been an active member of Earth in Brackets, getting involved with the climate justice movement through grassroots-sponsored events like Powershift (2013) and the People's Climate March (2014). Paris will be Sara's second COP, after attending the climate negotiations in Lima, where she followed land use and non-market mechanisms. In Paris she hopes to follow negotiations on the final agreement, focusing specifically on adaptation and loss and damage. She also wished to engage with civil society organizations around the COP, building strategy and alliances that she can bring back home and use for widespread systemic change.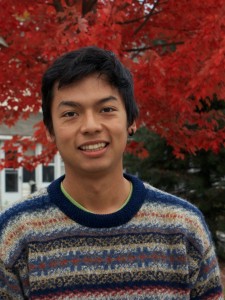 was born in the heart of Guatemala City. He graduated from Lester B. Pearson UWC of the Pacific in Vancouver Island, Canada in 2013. Currently, he is a third-year at COA where he focuses in socio political studies and  international environmental politics. He is interested in learning how we can solve one of the biggest crises of our generation in a way that is just and equitable for all. His enthusiasm in working towards achieving such solution is what made him join Earth in Brackets almost 3 years ago. He attended COP20 in Lima, where he followed issues related to land use and forestry, and the ADP. He also attended the June session of the ADP held in Bonn, Germany, in order to delve further into the process of creating the new climate agreement in Paris. In Paris, he will follow the ADP and get involved in the increasing civil society movements that are building up.