by Lara Shirley
Earth in Brackets participated in an action today called 'Our Red Line'.
'Our Red Line' was an action aimed at drawing the essential, red line that Rio+20 should uphold for humanity, the earth and the future. It evolved from how the term was used over the past few days, as Brazil has been asking countries to remove brackets from the text and instead only state their 'red line': the aspects they will not compromise on.
We lined up along the pathway leading up to the plenary hall where negotiators were entering, and all wore red t-shirts to form a human 'red line'. We held signs stating our demands and personal 'red lines' in our own languages, as well as a large sign stating Our Red Line: Rights, Justice, Equity and the Earth's Integrity.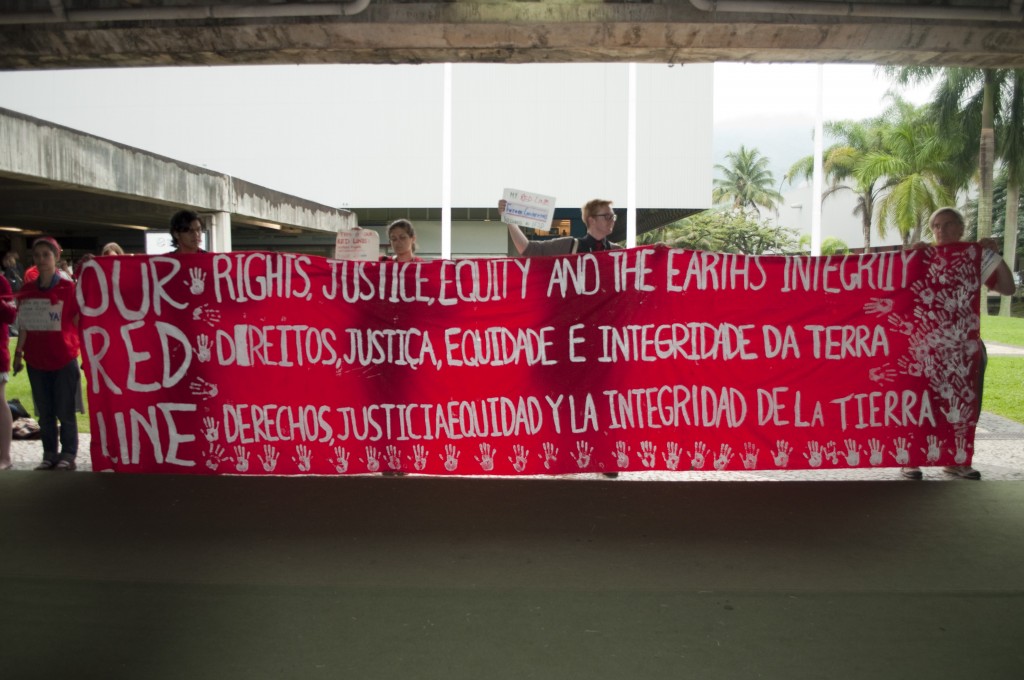 There was a strong focus on unity: different aspects of civil society participated, and there was also a connection to the civil society outside the Rio+20 arena. It wasn't meant to be associated with any particular group, but rather show collaboration.
There is increasing agreement amongst civil society that the future that is being negotiated for the people and the planet is not the future we REALLY want. The draft outcome's lack of ambition and failure to address the people's most basic demands is unacceptable.
The action was a reminder to negotiators of the people – not just those here, but the millions not present as well – and the values they must represent if this conference is to have any chance of truly succeeding.
If you want to participate! Tweet what you cannot compromise with the tag #redline and post photos of you making a red line back home at the "Our Red Line" facebook event page:
http://www.facebook.com/events/251866064926465/.