by nathan thanki
Hello from the top of the world.
This week the beautiful Lofoten islands have hosted not only our team of six from Earth in Brackets, but also the annual Young Friends of the Earth Europe camp of 100 inspiring and inspired young activists from Russia, Canada, Nigeria and all over Europe, as well as Natur og Ungdom's 300 strong summer camp for Norway activists.
We are here to send a loud and clear message to the world, especially to the Norwegian government of the present and the future. That message is that we will not allow more oil drilling in the Norwegian arctic. While Norway continues to enjoy an artificial green light in international media, at home the government and the state owned oil company, Statoil, are hell bent on opening up one of the most important biodiversity sites in Europe to oil drilling. This isn't the first time. In 2002 our hosts and allies, Nature and Youth, managed to resist an attempt to drill (and spill) oil in Lofoten. In spite of the usual obfuscating tactics and arguments (in a word: JOBS), people in Norway–especially young people and fishermen–realize that an expansion of any fossil fuel industries is a step in the wrong direction and an injustice to the local community, those at the frontlines of climate impacts, and future generations alike. Instead of addressing the root causes of the climate crisis, Norway is attempting to justify it with the mumbo-jumbo of "clean oil" and the false promise of "jobs."
There are many reasons to say "no" in Lofoten. But we didn't come here just to say no, important though that is.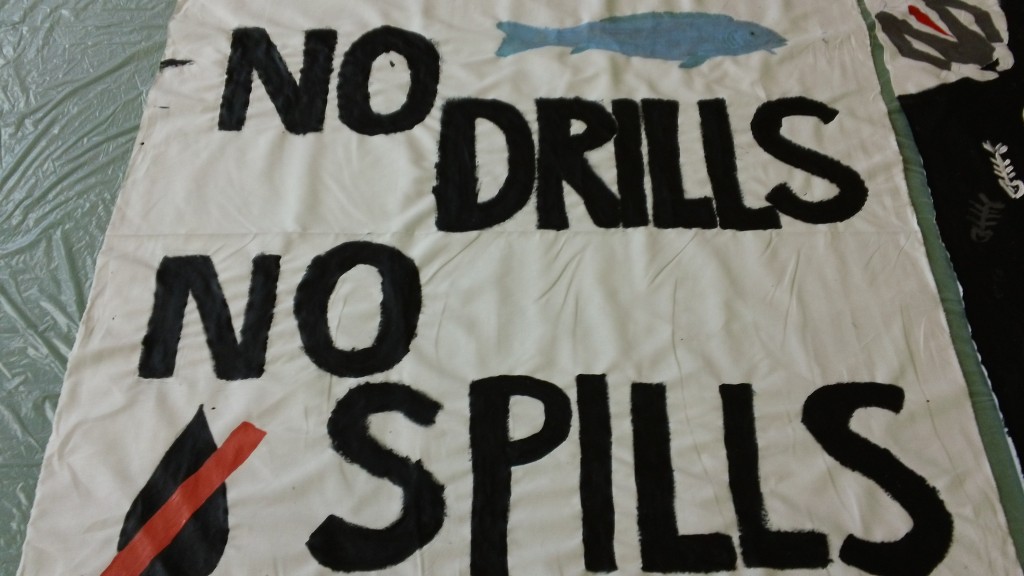 We're here with these other groups, including Canadian Youth Climate Coalition, Environmental Rights Action, Students on Ice, and No Dash for Gas, to build the kind of powerful, strong, coordinated and supportive movement that can unite struggles and deliver climate justice. The groups here work intensely at a grassroots level, within all kinds of communities, and often as part of a national or international network. Being based at a university in small town Maine with a 4 year degree programme we are limited somewhat in the "grassroots" work we can do and as a result work intensely at the 30,000 feet level of UN negotiations.
Often different groups' climate activism gets categorized into a false dichotomy of either "grassroots" or "international." Sometimes we even fall into the harmful habit of imposing these divisions on ourselves, when in fact we should be cultivating symbiosis. If it wasn't so important to remember it would be a trite observation that there is more than one way to skin a cat. The diverse work that all of these groups do is valid and important. Policies of false solutions such as REDD, CDM (Clean Development Mechanism), and agrofuels, which our Nigerian allies brilliantly presented on, are fought in negotiating halls before they are resisted on the ground. Yet if we worked exclusively in those soul-destroying halls, we'd have a snowball's chance in hell of winning this war. It takes all sorts is basically what I'm saying, though it's not just that. It takes all sorts with close and trusting relationships, acting in concert with others, to win.
On our part we know symbiosis will require getting our hands "dirty" outside of the UN climate talks. And we are beginning to do that by planning for the Global Month of Action against dirty energy. I think it also requires us to do a better job at what we already do: translating the deliberately cryptic UN decisions and issues into compelling stories. The corporate capture of the multilateral space won't happen if the groups fighting in that space don't maintain open channels of communication with the movements fighting on the ground. The relationships between all of our groups is changing. The pre-Copenhagen mentality of "inside" analysts dictating what the grassroots activists would mobilize for is defunct. At the same time, "outside" groups have marked COP21 in Paris in their diaries. Clearly, the space is neither dead nor supremely important. It is one arena among many for us to confront the root causes of the climate crisis.
So what has this got to do with our presence here in Lofoten? As I wrote earlier, we're here to say no to drilling in the Arctic. But as I also wrote, we are here to build an international climate justice movement. Taking the time to meet each other and hear each others stories is one part of that. All this week we've been starting to have exchanges of ideas around how to better connect the many fights we are waging at many levels. We're starting to plan coordinated actions and look beyond solidarity to symbiotic relationships which depend on collaboration.
That is probably worthy of a celebratory, life-affirming dip in the arctic water. Or a break to enjoy the "folkfest." Watch this space for more updates on what's been going on here at the Young Friends of the Earth Europe camp.