by Makiko Yoshida
What the Paris Agreement has Failed to Achieve
After four years of negotiations, the Paris Agreement was adopted under the United Nations Framework Convention on Climate Change (UNFCCC) on December 12th. There are many reasons why many of us do not think that this agreement is sufficient to what the world needs despite what many media outlets have been reporting. Following the adoption of the agreement, Oquist, the Minister of Environment for Nicaragua also expressed disappointment: "I did not intend to block the agreement but rather to work to fine tune… I wanted to make suggestions on some cross-cutting matters which have to be corrected to move forward for humanity… I wanted to explain why we are not able to support the consensus." Before the 21st session of the Conference of the Parties (COP21), the People's Test had outlined four tests that the parties will need to achieve in order to meet the demands of the people that are most affected by climate change. The "focus on genuine, effective action rather than false solutions" is one of the four tests.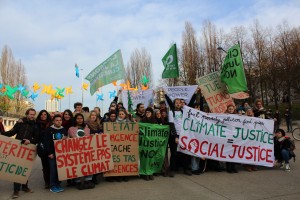 What are false solutions and why are they bad?
False solutions are solutions that are promoted as effective means to fight climate change when in fact not only they do not help in cutting emissions and slowing down warming (in some cases even worsening the already precarious situation), but they shift the focus away from real solutions. These solutions tackle mitigation, adaptation, and loss and damage through capacity building and effective national and international cooperation. False solutions often favor the countries and people with power and money so that they may deny their role in causing climate change. They also shift the burden of bearing the bulk of the problem to the vulnerable and the poor, he ones who have historically contributed the least to climate change.
Carbon Trading Mechanism
The agreement recognizes carbon trading mechanisms as a legitimate solution. Article 6, paragraph 2 and 3 refer to the use of "internationally transferred mitigation outcomes" A.K.A. a carbon trading mechanism. A Carbon Trading Mechanism is an emissions trading scheme that allows participants to trade permits in order to produce emissions. Under a carbon trading scheme, a country with more carbon emissions is able to purchase the right to emit more while the country with less emissions trades the right to emit carbon to other countries.
Additionally, this solution includes the concept of "offsetting" meaning that by carrying out "green" projects in the developing world, the global North is not only absolved of its historical responsibility, but is also allowed to pollute further as an add-on benefit.
Under the 'cap and trade' principle, a maximum (cap) is set on the total amount of greenhouse gases that can be emitted by all participating installations. 'Allowances' for emissions are then auctioned off or allocated for free, and can subsequently be traded. Installations must monitor and report their CO2 emissions, ensuring they hand in enough allowances to the authorities to cover their emissions. If emissions exceed what is permitted by a country's allowances, an installation must purchase allowances from others. Conversely, if an installation has performed well at reducing its emissions, it can sell its leftover credits. This allows the system to find the most cost-effective ways of reducing emissions without significant government intervention.
Dallas Goldtooth from Indigenous Environmental Network said:
"The Paris agreement is a farce. Any discussion of carbon markets and carbon trading is a false solution. The truest solution, which is backed up by science, is that we have to keep fossil fuels in the ground. We must see a moratorium on fossil fuel development, and we must see a just transition for all those communities that are dependent on fossil fuel economies. Whether we're from the global north or the global south, we need help and support to create a future that has renewable energy for 100 percent of people on this planet."
We have to keep fossil fuels in the ground. As I chanted with many other civil society members on the street of Paris, "Back up, back up! We want freedom, freedom! All your oil, gas and coal, we don't need them, need them! Back up, back up! We want freedom, freedom!" The climate crisis that we are facing will not be solved without a systematic change of our economies and of our society. System change is what we need, not climate change.