by Rachael Goldberg and Andrea Fontana
Mobilized by 350.org, we joined a variety of climate justice groups that gathered today to demand governments to "freeze" the extraction and use of fossil fuels.
Members of Earth in Brackets gathered with other Climate Justice groups and "froze" in the Blue Zone of COP22. The action was meant to draw attention to the report  "The Sky's Limit" that was recently published by Oil Change International.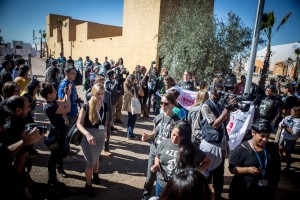 The Paris Agreement established the aim for countries to try to keep the average global temperature warming under 1.5 and well below 2 degrees. It is crucial that immediate action to stop new fossil fuel development projects is taken. It is unacceptable that developed countries are continuing to extract and use fossil fuels as a source of energy while the development of renewable energies shows the tangible alternatives for more sustainable power.  There needs to be immediate action in stopping new fossil fuel development projects.  If countries continue to use fossil fuels at the current rate, the chances to stay under the goals of the Paris Agreement are not slim: they are nonexistent. The fields and mines that exist today in the world are predicted to already bring us well above 2 degrees of warming.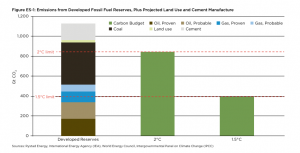 Today's action called for the freeze of new fossil fuels infrastructure and have a just transition to renewable energy. During this action, we utilized the human microphone — those who were frozen repeated the words of speakers from frontline communities and from organizations that have been fighting directly to achieve the freeze of new fossil fuel plants, chanting "zero fossils" and "four years is too long to wait."
It is also important to consider the new political situation that arose from the US election this past week. We cannot wait four years to have the just transition we're asking for. Newly elected President Donald Trump has asserted in his "first 100 days" plan that he will overturn many of the past years' Presidential important decisions on climate change and environmental protection, and that he will allow projects such as the Keystone XL to go forward. It is important, now more than ever, for civil society to mobilize and show a position of strong disagreement against such governmental decisions, not only in the United States, but all over the world.