by Khristian Méndez
The talks and negotiations going on at the FAO Headquarters in Room have changed rooms, have changed voices and have changed tones. After having a few days for Civil Society to try to come to consensus, the texts on the table are now being bracketed and picked apart by Member States, the Private Sector as well as other players. Before my peers carry on delivering a breakdown of the events unfolding before our eyes, I would like to add a bit more of background for those who read these words with fresh eyes, but no less eager energy. More after the jump…
The Who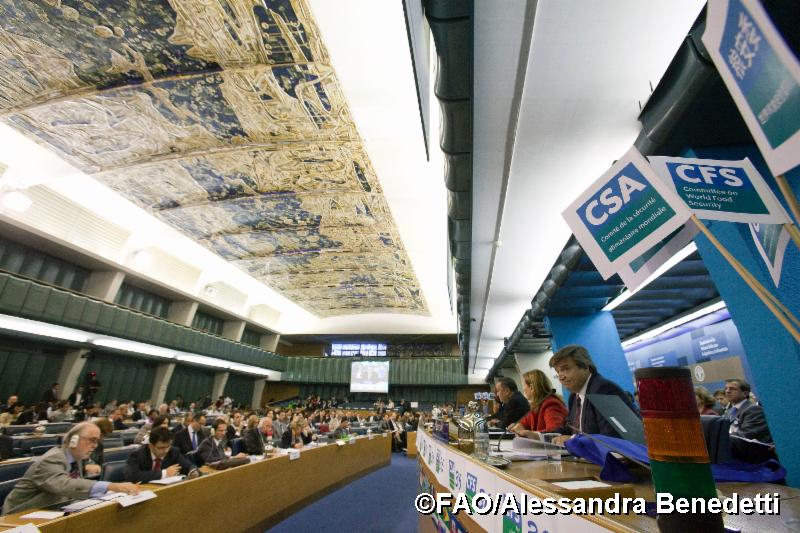 As explained in my previous post, the working groups from the Civil Society Mechanism who were at FAO over the weekend were here to prepare for the 40th Plenary Session of the Committee on World Food Security (CFS). The forum was reformed in 2009, and since then, it claims to be the most inclusive multi-stakeholder* (see the bottom of the page for the meaning of the jargon in italics) forum for Food Security and Nutrition. Part of the outcome of this reform was the call to create the Civil Society Mechanism. The Committee (usually) convenes here in Rome once a year, and amongst its main outcomes have been the First Version of the Global Strategic Framework on Food and Nutrition, with notable content from Civil Society (who usually leave other fora like this feeling ignored.)
For those with a more visual taste for these things, feel free to check out the Earth in Brackets visual introduction to the CFS
The Why
The CFS has covered plenty of topics around Food Security. This year, the Policy Convergence sessions (where Member States and other stakeholders decide on the Policy Recommendations), are structured around Biofuels, Protracted (or prolonged) Crises, and Agricultural Investment. The idea is that these Policy Recommendations will be further adopted by the member states, and after they are tested "on the ground" for them to ideally improve food security, issues will be flagged to be brought back to the CFS.
The Where
Same as the CSM, the FAO Headquarters in Rome.
The How
The mechanics of the conversations here are stifled by the fact that it is no longer just civil society and their roughly overlapping interests who are at the table. Members of Civil Society and NGOs have been relegated to a limited number of interjections to the tables (sometimes up to 5, but they depend on member states and how long they take to speak). This time, representatives and delegations from Member States take up most of the speaking time, as they sift paragraph after paragraph: brackets are removed or text is taken out.
This is some of the basic information that you might need to know to have a better sense of our work here in Rome for this week.
Multi-stakeholder & stakeholder: someone who has a vested interest in a specific topic, so a multi stake holder forum is a place where different kind of stakeholders (civil society, member states, private sector, etc.)
***
Was there anything left out? What else would you need us to cover? Let us know right below in the comments section!