Declaración de los grupos miembros de Justicia Climática que participaron en la COP, emitido la ultima noche de las negociaciones en rechazo al resultado de Lima. Versión en español disponible en la segunda parte de este blog. 
No Justice in Lima Outcome (English)
This is the statement prepared by CJ groups inside COP20 and published the last night of negotiations in rejection to the outcome of Lima negotiations.
The world faces a planetary emergency: climate change, caused by a system that puts the pursuit of profit above the needs of people and the limits of nature. It is already devastating millions of people across the planet. Climate science predicts we will soon breach critical tipping points and could be locked in to 4-5°c of warming with catastrophic impacts for us all.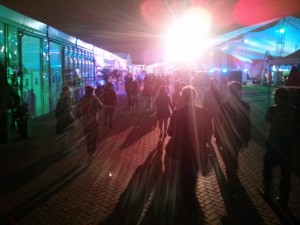 Civil Society at COP marching towards the entrance of the plenary the last night of negotiations to reject the outcome of the negotiations. #NoJusticeNoDeal!
The Lima Conference should have been a milestone that marked out how governments will take urgent action to tackle climate change and to support vulnerable people across the world to adapt to its locked in impacts. The concrete demand was to set out how we would increase emission reductions from now until 2020, and set long term climate targets to make sure we limit temperature increase to below 1.5°C. Therefore, climate targets need to keep us within the emissions budget, which should be shared based on the principle of common but differentiated responsibilities and respective capabilities and honor climate debt.
The Lima outcome is another in a series of yearly decisions that weaken international climate rules, failing people and the planet. The pre-2020 mitigation pledges are unjust and weak and put us on track to breach 2°C of warming by mid-century. The promised increases in pledges didn't materialise in 2014, nor was there a commitment to urgently revisit, revise, or review them.
The decisions in Lima are preparing for an agreement in Paris that risks ignoring the needs and rights of impacted people across the world by precluding binding commitments on finance, adaption, loss and damage and technology transfer. The decision fails to link the actions of countries with the technology and finance that is needed to enable people in the South to adapt and build resilience and deal with the loss and damage from the impacts of climate change, as well as to carry out mitigation actions without which the world will not reach the scale of transformation and just transition needed to limit temperature rise below 1,5 C degrees.
The Lima decisions open the possibility for every country to decide its own climate action going forward, with no reference to what science, people, and justice demand, and without a clear regulatory framework. We saw politicians, especially those from the US, the EU and their allies, acting in the interest of big polluting corporations, determined to further deregulate the international climate change regime, fundamentally undermining the UN climate convention, by weakening the rules for developed countries and ignoring their legal and moral obligation to transfer finance and technology.
The Lima outcome further opens the door to the expansion of the failed experiment of carbon markets. Including, possibly carbon credits from forests and soil, which would be devastating to farmers and forest communities across the world and would prevent the transformation we need.
The Peoples' Summit and its march through the streets of Lima demanded the defence of Mother Earth, and the guarantee of rights of all peoples, of all genders. It presented a clear vision for solutions to the climate crisis, and for alternatives to its causes.
People across the world are taking up these alternatives and fighting to transform the system. We are struggling for survival and for the safety and security of our homes and livelihoods from climate disasters. We are fighting for a transformation of energy systems, away from fossil fuels, towards access to decentralized, renewable, safe, community controlled energy systems for all. We are defending our food sovereignty and expanding agro-ecological solutions, whilst struggling to adapt to the devastating consequences of locked in climate change. Just as community-based forestry programs work in the interest of people, particularly indigenous peoples, instead of bankers and financial capital in the North.
People are building power – at local, national and global level. We continue to put more people on the street, to block mines, ports, corporate offices – and our strength is growing, as is our power. We will reclaim power from those who don't act in our interests. We will resist the imposition of a 'global climate deal' that does nothing for the climate and even less for people.
They tried to bury us here in Lima but we are seeds and we will grow into a forest of resistance.
Resultados de Lima sin Justicia (Español)
El mundo se encuentra en una emergencia planetaria: el cambio climático, causado por un sistema que prioriza el lucro por encima de las necesidades de la gente y de los límites de la naturaleza. El cambio climático está devastando las vidas de millones de personas en todo el planeta. La ciencia advierte que pronto pasaremos puntos críticos de no retorno que nos pondrá en rumbo a un calentamiento global de 4-5°C, con impactos catastróficos para toda la humanidad.
La Conferencia de Lima debería haber sido un hito para la definición de medidas urgentes para combatir el cambio climático. Estas medidas deberían ser tomadas por los gobiernos para apoyar a las personas vulnerables de todo el mundo a adaptarse a los impactos inevitables.
La demanda concreta era redoblar los esfuerzos dedicados a la reducción de emisiones hasta 2020 y fijar objetivos a largo plazo que limiten el incremento de la temperatura por debajo de los 1,5°C. Por lo tanto, los objetivos de reducción deben asegurar que el mundo se mantenga dentro del presupuesto de emisiones, que debe ser distribuido en base al principio de responsabilidades comunes pero diferenciadas y capacidades respectivas, como también honrando la deuda climática.
El resultado de Lima es parte de una serie de decisiones anuales que debilitan las normas internacionales sobre el clima, fallando a la gente y al planeta.
Las promesas de mitigación pre-2020 son injustas, débiles y nos encaminan a sobrepasar los 2°C de calentamiento a mediados del siglo. Las promesas de incrementar las reducciones no se materializaron en 2014, pero tampoco hay un compromiso para revisar las mismas.
Las decisiones en Lima predisponen un acuerdo en París que atenta con ignorar las necesidades y los derechos de las personas afectadas en todo el mundo, al no exigir compromisos vinculantes en cuanto a financiamiento, adaptación, pérdidas y daños y transferencia de tecnología.
La decisión no establece vínculos entre las acciones de los países con la transferencia de tecnología y la financiación que los pueblos del Sur necesitan para adaptarse, aumentar su resiliencia y hacer frente a las pérdidas y los daños de los impactos climáticos, como tampoco para que lleven a cabo acciones de mitigación necesarias para asegurar que el mundo alcance el nivel de transformación y transición justa necesarios para limitar el aumento de temperatura por debajo de 1,5 grados C.
Las decisiones de Lima abren la posibilidad de que cada país decidan sus propias acciones climáticas a emprender, sin ninguna referencia a lo que la ciencia, la gente y la justicia demandan y sin un marco normativo claro. Notamos que los políticos -especialmente los de los EE.UU., la UE y sus aliados- actúan en el interés de las grandes corporaciones contaminadoras, determinadas a desregular aún más el régimen internacional de cambio climático, socavando fundamentalmente la convención de cambio climático de las NN.UU., debilitando las normas para los países desarrollados, haciendo caso omiso de su obligación legal y moral de financiación y transferencia de tecnología para los países en desarrollo.
El resultado de Lima permite, aún más que antes, la expansión del experimento fallido de los mercados de carbono. Incluyendo la posible creación de créditos de carbono para los bosques y el suelo, lo que sería devastador para los agricultores y las comunidades forestales en todo el mundo y evitaría la transformación que necesitamos.
La Cumbre de los Pueblos y la gran marcha por las calles de Lima exigieron la defensa de la Madre Tierra y la garantía de los derechos de todos los géneros, gentes y pueblos. También presentó una visión clara de soluciones a la crisis climática, como también de alternativas al sistema y sus elementos que la originan.
La gente de todo el mundo está proponiendo estas alternativas y lucha para transformar el sistema. Estamos luchando por la supervivencia,  por la seguridad y la seguridad de nuestros hogares y medios de vida frente a los desastres climáticos.
Estamos luchando por una transformación de los sistemas energéticos, dejando atrás los combustibles fósiles, hacia el acceso universal a la energía, basado en sistemas descentralizados, renovables, seguros y controlados por la comunidad. Estamos defendiendo nuestra soberanía alimentaria y la expansión de soluciones agroecológicas, mientras luchamos por adaptarnos a las consecuencias devastadoras e inevitables del cambio climático. Los programas forestales basados en la comunidad sirven al interés de la gente, en particular los pueblos indígenas, en lugar de beneficiar a los banqueros y el capital financiero en el Norte.
La gente se esta empoderando  a nivel local, nacional y global. Seguimos movilizando a más gente, bloqueando minas, puertos, oficinas corporativas. Nuestra fuerza y poder crecen.
Vamos a retomar el poder de aquellos que no velan nuestros intereses. Vamos a resistir la imposición de un "acuerdo climático global" que no hace nada para el clima y aún menos para el pueblo.
Ellos trataron de enterrarnos, aquí en Lima, pero no sabían que somos semillas y que creceremos en el bosque de la resistencia.