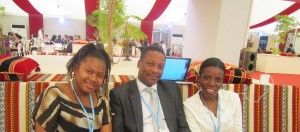 by Angeline Annesteus & Lurette Paulime
One of our goals coming to the climate negotiations in Doha was to lobby the Haitian Government. We have been meeting with the delegates and have had some very thought-provoking conversations. However after a long discussion at lunch yesterday with the delegation and the Minister of the Environment, Jean Vilmond Hilaire, we realized how firm they were in their position. This blog reflects the position of the Haitian Government and the likelihood of such positions within the Least Developed Countries (LDCs) as well as the implications of it in Doha and beyond.
Being part of Earth in Brackets and having taken many environmental politics and diplomacy classes with Doreen Stabinsky, we have cultivated solid background knowledge of the complex and evolving process of the UNFCCC and have a clear understanding of where to stand on some key issues that are on the table here in Doha. For example, we know that we want to see a second commitment period under the Kyoto Protocol and a firm agreement by the developed countries to deliver on finance in order to help the developing world strengthen their mitigation efforts.