Synthetic biology: What is it? Why does it matter? And why are some countries and NGOs pushing for this discussion at COP11?
by Mariana Calderon
On Thursday in Working Group 2, during a seemingly innocuous discussion on Operations of the Convention, a relatively heated discussion caught my attention–delegates were debating a topic buried under agenda item 6.2 of the COP: Synthetic Biology.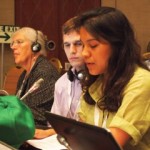 Item 6.2 actually deals with consideration of the "need to strengthen existing mechanisms of the convention," but this bland title prefaces draft decisions on ways to improve the effectiveness of the Subsidiary Body on Scientific, Technical and Technological Advice (SBSTTA). Within the draft decisions are three proposed textual options for dealing with (or ignoring) the topic of synthetic biology as a new & emerging issue.
So what is synthetic biology?