By Sergio Cahueque
Day one of the Climate negotiations.
As the eyes of the world and the media were paying close attention to what the Heads of State had to say in their interventions at the United Nations Framework Convention on Climate Change (UNFCCC), small break up groups (spin-off groups) were working on the draft text for the new climate agreement, also know as ADP, in close door negotiations. They were discussing issues such as mitigation, adaptation and loss and damage, finance, transparency of action and support, technology transfer and capacity building, and implementation and compliance. All of them are contentious issues that developed countries want to leave out of the text and that are the basis for an equitable, just and ambitious agreement.
Close door negotiations means that civil society is not allowed to come inside the room and hear to what governments have to say. Of course mainstream media hasn't mentioned this at all: they are all too busy praising our Heads of State for their leadership on tackling Climate Change, especially the French president, Francois Hollande, an his intervention demanding for a Climate Justice approach. But as Hollande was advocating for a radical position to tackle Climate Change, the French presidency of the UNFCCC left the Civil Society without the ability to see and listen to what governments are actually doing, or not doing, about it.  Pretty incoherent, eh?
We, as a youth collective, demand that Civil Society is allowed in the negotiations and these are the main reasons for our demand: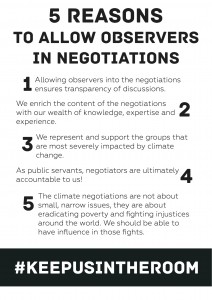 Climate justice is ultimately about people and civil society. If the french presidency at the UNFCCC wants to be coherent with what Hollande said on his intervention, civil society needs to be let in the negotiating rooms.
The president of the COP21, Laurent Fabius, can't claim this to be a surprise-free conference, with transparency and inclusiveness, to then keep civil society out of the negotiations.