by Earth in Brackets team and friends
Negotiations in Warsaw carried on essentially non-stop from Wednesday morning until Saturday night, with many delegates not sleeping for at least the final 48 hours. There were three concurrent issues being negotiated over the course of Friday and Saturday: finance, loss and damage, and the ADP draft text. Finance and loss and damage were in closed contact groups all day and night. ADP had two separate drafting sessions that were open to observers.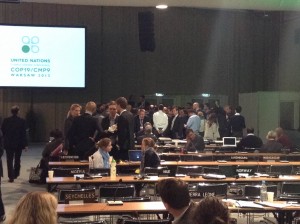 At 5am on Friday, a new draft text of the ADP was issued. By 11am a drafting session was convened which ran to 3pm. Up for discussion was a draft text that had been released at 5am that morning. Developed countries insisted on discussing enhanced action post 2020, against the calls from developing countries to talk about pre-2020 efforts.  The session reconvened at 7pm with a proposal for all parties to release their emission reduction pledges under the 2015 agreement between 2014 and first quarter of 2015, a year later than an earlier chair's text, which reflected developing country demands, had proposed. BASIC proposed that Article 4 of the Convention be added to any post-2020 deal. The Like Minded Developing Countries supported while the US, AOSIS, and AILAC opposed. BASIC then proposed that developed countries intensify their domestic preparations for their nationally determined commitments for the 2015 agreement, and communicate these well in advance of COP21. This proposal included a reference to CBDRRC and historical responsibilities and was supported by Nicaragua, Venezuela, and Cuba but opposed by AILAC and Canada who want no reference to historical responsibility.
A "huddle" occurred at around 10.30pm to go over BASIC's suggested text. At around 1am, India, proposed language for paragraph 2b that have flexibility to the timeline for communicating domestic preparations by including "by those Parties in a position to do so." This drafting meeting went on until 3am Saturday morning, then ran again from 5-7am. The ADP plenary began Saturday morning at 9am, only to be suspended several times. It finally ended at 4:30pm.
At the evening drafting session on Friday there were two proposals on the table that had been proposed in the morning session. One was proposed by BASIC and the other by the Dominican Republic. Both proposed text for the now infamous paragraph 2b. Developing countries of the G77 and the LMDCs supported the BASIC proposal, while developed countries, AOSIS and AILAC supported the Dominican Republic's text.
The BASIC proposal contained wording drawn from Article 3.1 and Article 4 of the Convention. After some debate over the two proposals, St. Kitts came out and said that they have an issue with some of the Convention text itself. This opened a new can of worms.
AOSIS, developed countries and AILAC said that while they agree with the Convention objective and principles, they cannot work with the Convention language on Nationally Determined Commitments (NDCs). They prefer Convention language present in the Durban Platform to text from the original Convention. This is an unprecedented debate. Usually in the UNFCCC the Convention represents the bottom line of what is permissible and obligatory.
Saturday morning opened with the ADP plenary, followed by the COP plenary. The ADP text could not go through with opposition from India and China who insisted that only developed countries have commitments. Parties' different understandings of the implications of the original language of the Durban Mandate ("applicable to all") means that China and India want to avoid the "Bali firewall" distinction between the nature of developing and developed country efforts to be removed, while the EU and US want to be able to say that China and India are undertaking emissions reductions too. After a long huddle, a compromise of creative ambiguity was reached which essentially postpones the debate: commitments was substituted for  "contributions, without prejudice to the legal nature of the contributions" where it occurred in para 2b.
After this the ADP managed to close relatively quickly and Parties moved on to the COP/CMP plenary. All the finance items were gavelled through without remark. On the contentious issues of the loss and damage mechanism, which developing countries said they were determined to take from Warsaw, agreement did not come easily. The initial demands of the G77 as outlined in their proposal were for the most part gutted, but the final straw was to locate the Mechanism "under" the Cancun Adaptation Framework, when the G77 wanted it to be a stand alone. After impassioned speeches by Philippines and Fiji, another huddle was convened around Fiji. While the huddle was going on, other items went through. The touchy budget was approved: any additional ADP session will cost 2.2 million Euro. Developed countries, showing clearly where their priorities are, have already pledged to cover the first additional session in March 2014. Eventually an agreement was reached within the huddle between the G77 and the US and the plenary resumed. G77 did not succeed in establishing the mechanism as a third pillar, and it will be set up "under" the CAF. They did, however, manage to get recognition of slow-onset impacts as well as a review of the structure, mandate, and situation of the mechanism at COP22.
After many stops and starts, heated points of process, and an hour long huddle for both, decisions on all three of the big topics were gaveled through. Below is an initial summary of the Warsaw outcomes.
The overarching points:
Lack of action by developed countries on reducing their emissions pre-2020 is undermining trust through the whole process.
No specific numbers on developed country emissions cuts or finance to start economic transformation in the South. Any potential progress on this blocked by the US.
Severe backtracking and bad faith negotiating by countries like Japan, Australia, US, and Canada
On Finance:
Overall: the US blocked any useful language on a finance roadmap between now and 2020, which many developing countries had deemed essential for even a moderately successful negotiation.
There is still a gaping chasm in finance between now and when the new agreement comes into force in 2020.The Green Climate Fund has not been capitalized, and the Adaptation Fund has only $104 million in its coffers.
There are no numbers included in the text. This means no clarity or predictability, making it hard for developing countries to plan ambitious mitigation efforts and forcing them to redirect money they would have used for poverty eradication.
The text is even more open to counting private finance in climate finance commitments. To be consistent with the Convention and with developing country demands, it should have kept out private finance in favour of sustainable public finance.
The US threatened to require developing countries to report on how they are creating 'enabling conditions'. This is a dangerous free trade term which means reporting on how much deregulation they are doing, presumably as a point of leverage on which to hold back finance.
On Loss and Damage:
An international mechanism called the Warsaw International Mechanism on Loss and Damage was 'established' after 20 years of effort and demands by impacted peoples – but it will not be adequate to respond to the need for real efforts on loss and damage.
The US blocked progress throughout and held up the final talks over the word 'under'. The current mechanism is placed under the Cancun Adaptation Framework (which the US wanted). This means that loss and damage will not be recognized as the 'third pillar' (after mitigation and adaptation) of climate action, as it should be. The Mechanism will be reviewed at COP22 in 2016, when its mandate, function, and situation under the CAF will be re-evaluated.
On Equity:
By blocking numbers on emissions controls and finance in the pre-2020 period, the US led the block against an equitable outcome.
The text of ADP Workstream 1 was edited by developing countries to ensure that consideration of the means of implementation they'd have access to was included when they develop their contributions.
The text is very weak on having consideration of aggregate effort or dividing it fairly but reference to the ultimate objective of the Convention means that next year, governments will have to consider the emissions budget.
The whole process has been dragged so far by the US "pledge and renege" approach that it is at risk of producing a completely meaningless outcome.
There were continued fights about "differentiation" and the "firewall" between developed and developing countries as the compromise wording "contributions" (rather than "commitments"). It does not resolve the basic argument.
On Markets and Non-Market Mechanisms:
New markets and steps toward a global carbon market were successfully resisted here.
Despite efforts by the EU and Switzerland to undermine the process and put pressure on Ministers to reopen the discussion, there was enough pressure from developing countries and civil society to ensure t did not happen.
The fight will continue in Bonn but increasingly countries are realizing that carbon markets are a false solution
Almost no progress on non-market approaches (NMA). The EU wanted to put it under the Framework for Various Approaches (FVA).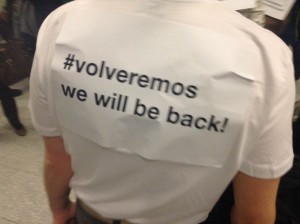 COP19 closed with a lot of backslapping and cheerleading over the process (mostly from the developed country governments). Exhausted developing country governments noted the small victories they had achieved, but their words were laced with sadness and a tinge of despair. While the formals talks yielded very little by way of positive outcome, the growing unity of civil society groups provided some ray of hope. National movements need to grow dramatically stronger to exert pressure at home, but they also need to strengthen their links to other movements. There was a recognition of a need to strengthen voices from the South and to better support some Southern governments when they do fight for climate justice at the international level. For now, it is time for real 'extra-curricular' movement building. The social pre-COP in Venezuela will offer a unique opportunity for us to input to the process on our own terms. The fights won't ever be won at the big name destinations like Copenhagen, Durban, Warsaw, or Paris unless the conditions are in our favour. The task at hand is to build, inspire, and reclaim enough power to advance towards the transformational change needed.
Volveremos, y seremos millones. We will be back, and we will be millions.
Further reading:
http://www.bbc.co.uk/news/science-environment-25067180
http://www.theguardian.com/environment/2013/nov/23/warsaw-climate-talks-carbon-emissions
http://www.huffingtonpost.com/2013/11/23/un-climate-talks-deadlocked